===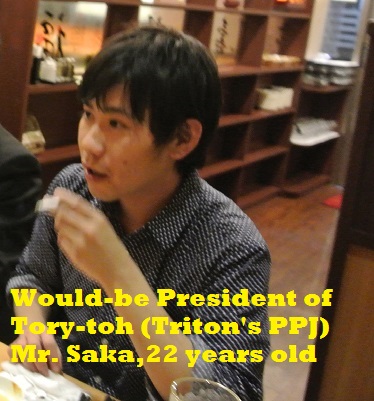 ===Mr.Saka was nominated as Triton's successor on March.5, 2913 at 00:53 am by ex-President of Tory-toh Mr.Triton without any kind of elections when Mr.Triton resigned at the same time on Website of Tory-toh, Triton's so-called PPJ.
Most members required the election but Mr. Saka ignored the requiement.
After a lot of Claims from the members of the Tory-toh ( so-called PPJ, Pirates Party Japan, or Toriton-party ) the ex-president of Tory-toh , Mr.Triton ( or Hideton on SNS, or Mr.Hideto Suzawa ) announced on his Website, " I could not keep the Head Quater Office in Kanda, near Akihabara, after my resignation. So I decided to give 16,000 Euro from my pocket to the hand of Mr.Saka.
After Triton's statesment of the Website Mr.Saka, a would-be president of Tory-toh, annouced that
Mr. Saka would get the money from Mr.Triton then share the money between Mr.Yawara Ishida, so-called Nameko of Wiressia-office in Kyoto and him, so Mr. Saka, the other name Ban of Libertin Office in Ikebukuro,West Tokyo.)
On 20th March the next party will be held at the office of Libertin ( President is Mr.Saka ) in Higashiikebukuro, West Tokyo).

[0回]
PR